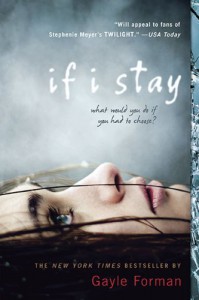 This is a book that I added to my TBR shelf when I first opened an account on GR and that was over a year ago. I had seen it in my local book store more than once and I even had it on wishlist on TBD. When I finally got it in paperback, I put it away on my shelf. God, I was such a tool! Seriously, this book!! This book is full of great things and it's my loss that I hadn't read it sooner. Better late then never though;-)
"Sometimes you make choices in life and sometimes choices make you."
Gayle Forman is a writer that has captured my attention, heart with only one book just as Willow Aster, Maggie Stiefvater, Colleen Hoover, Priscilla Glenn, Katja Millay, Trisha Wolfe, Nyrae Dawn and Wendy Higgins did. She is fenomenal! If I Stay will be forever a favorite of mine. Henry, Gramps, Teddy, Willow, Mia's parents, Kim, Adam – every single one of them equals love for me.
Also, this was a serious case of ugly crying for me. When that Coldplay song was mentioned – my gawwddd!! J'adore me some Coldplay! It's always a risky move to mention a song in a book, especially with so known melodies and lyrics, because the song may overpower the scene, but in this case it was perfecto! The scene where Mia's Gramps sat on her bedside... I was lucky I saw a few words through the blur, caused by the mist in my eyes, and it was enough to put together the sentences – that's how much this book affected me.
It's a book I will re-read back to back many, many times and I recommend If I Stay at least a thousand multiply infinity times LOL. It not only gives you the opportunity to drain yourself by releasing a heavy case of emotions, but makes you think about life and the choices we make, hiding from reality, loving and caring enough to carry on. It's a powerful story and yes, please do read it! You won't regret it, I promise:)
More of my reviews can be found on
my blog
.